Sanicole Airshow 2019
Stay at Park Molenheide from € 229
Combine a visit to the Sanicole Airshow with a nice stay at Park Molenheide, the most child-friendly bungalow park in Belgium. You can watch the Sunset Airshow on Friday 13 September and the 41st Sanicole Airshow will take place on Sunday 15 September. In addition, there is a Spotters Day on Saturday 14 September at Kleine-Brogel Air Base. This way everyone can take a picture of the planes.
When you book a holiday at Park Molenheide, your ticket for the Sunday airshow is included in the price for every registered bungalow guest. The bungalow park is only a 15-minute drive from the Sanicole Airshow in Hechtel-Eksel. You will receive your tickets during check-in.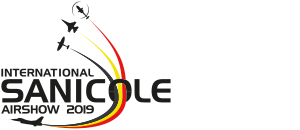 Included in your stay
Entry ticket for the airshow on Sunday
Free WiFi in your bungalow
Final cleaning
Unlimited access to the playground and swimming pool
geen-aanbiedingen-beschikbaar
Booking your holiday at Molenheide is simple!